Plan Your Summer With Our Guide to Lake Erie's Best Events
Steal away for the day — or even an entire weekend — to enjoy nature, live music, food, drink, fireworks, parades and more at the season's best festivals, celebrations and concerts.
May 5-14
Biggest Week in American Birding | Oak Harbor, Ohio
It's the largest birding festival in the world and draws 90,000 people from around the world toting binoculars to experience songbird spring migration in Oak Harbor. And it's not just for big-time birders. First-timers can find fancy in the feathered parade organized by Black Swamp Bird Observatory. Here's why this corner of Lake Erie is the right place and time for an impressive show.  
Birds' Eye Views: There are other places in the country to spot migratory birds, but the timing is just right in Northwest Ohio. "The peak of songbird migration happens early enough in the season, before leaf-out, so you can see the birds really well," says Kimberly Kaufman, BSBO executive director. 
Location, Location: Songbirds aren't swimmers but they must cross Lake Erie to reach Canada. To make the journey, they bulk up on insects, which are plentiful along the mile-long boardwalk at Magee Marsh Wildlife Area. 
Loud and Clear: "By the time the birds get to our latitude, the males are singing so you have birds that are looking fabulous at their energetic best," Kaufman says. "There is a vividness to being outside with the birds that is truly special." 
Birders Are Just Nice People: "They are so eager to share," Kaufman says, encouraging first-timers to attend. "When you find a beautiful treasure, you want to show someone. " biggestweekinamericanbirding.com
June 3, July 8, Aug. 3 & 26
Celebrating 150 Years | Lakeside, Ohio
You can listen to a keynote speaker in a hotel conference room and see a concert in an amphitheater, but the experience at Lakeside Chautauqua on the south shore of Lake Erie is "an engaging backdrop you can't find anywhere else," says Gretchen Colon, vice president of advancement for the historic destination, where generations gather to relax, reconnect and enjoy a range of recreation. 
It's a family hub, and a welcome break from the daily bustle. "Lakeside nudges us into resting and taking a step back in time," Colon says. 
The sesquicentennial birthday includes an extensive speaker lineup — plus plenty of live entertainment — from Memorial Day through Labor Day, including:
June 3 — Whose Line Is It Anyway?: Comedians Colin Mochrie and Brad Sherwood entertain with original songs, scenes and whatever you toss at them from the audience. 
July 8 — Blood, Sweat & Tears: In its World Tour, classic rock band BS&T fuses rock, jazz and blues. 
Aug. 3 — Jim Tressel: The former Ohio State University football coach delivers a keynote lecture.
Aug. 26 — Jim Brickman: Join the Cleveland native and Grammy-nominated pianist in his Across America, Greatest Hits Live tour. lakesideohio.com
June 16-18
Festival of the Fish | Vermilion, Ohio
"Fishstock … Three Days of Peace, Music & Perch" is this year's theme. Come for the food (perch, of course), drinks, music and fireworks. vermilionohio.com/festival-of-the-fish
June 18 – Sept. 4 (Select Dates)
Peek'n Peak Bonfire & Brews | Clymer, N.Y.
Bring an appetite for music, games and, of course, craft brews and a s'mores station. The summer fun includes an Aerial Adventure Course and scenic chairlift rides. Plus, there's the pool and cabana bar. As for the concert series, the kick-off is June 18 with the band Hard Luck Story. pknpk.com
June 21-22
Burning River Fest | Cleveland, Ohio
Two music stages, downtown Cleveland waterfront views, Great Lakes Brewing Co. beer, food trucks — need we say more? Oh, all ticket and beer sales benefit the Burning River Foundation. Cheers!
burningriverfest.org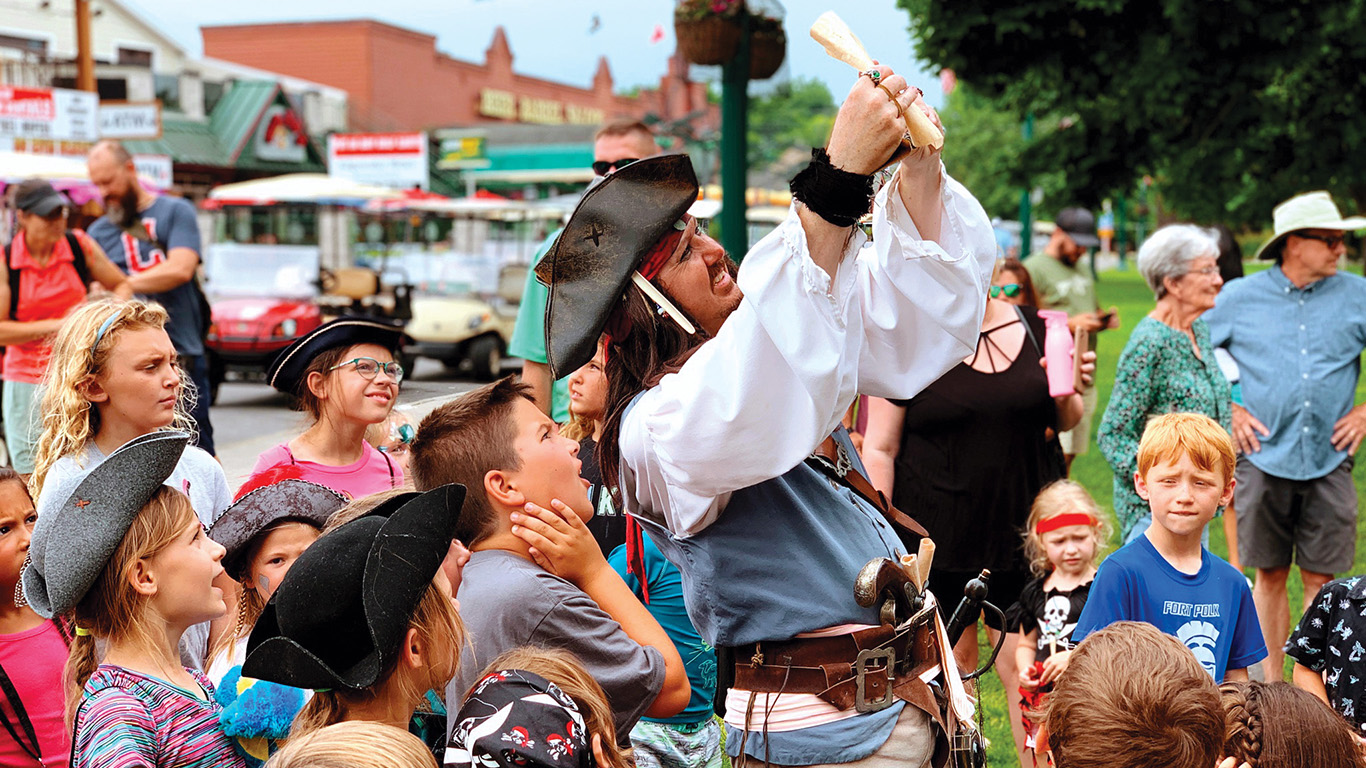 June 23-26
Pyrate Fest | Put-in-Bay, Ohio 
Pirates will invade the downtown harbor on Friday night, and Saturday is chock full of activities for kids and grownups. From cannon firing demos to parades and re-enactments, bring all your "hearties" and a yo-ho-ho spirit! visitputinbay.com
July 7-9
Huron River Fest | Huron, Ohio
Midway rides and games kick off Friday at 5 p.m. Check out the kiddie tractor pull, road show, parade, fireworks and full lineup of entertainment. If you've got a taste for chicken barbecue, buy a ticket for the Fire Department's fundraiser in advance. huronriverfest.com
July 8
Natalie Merchant and the Chautauqua Symphony Orchestra | Chautauqua, N.Y.
She started as lead vocalist for 10,000 Maniacs and during her 40-year career, Natalie Merchant has made a name as a respected recording artist, songwriter, performer and social justice and environmental activist. She will take the stage with the Chautauqua Symphony Orchestra. chq.org
July 8
Kelleys Island's Got Talent | Kelleys Island, Ohio
Sing a tune, play a guitar — or a kazoo — tell jokes, dance or do whatever talent you fancy. The judged contest includes a children's and adult competition. An audition video is required to participate, so you'd better practice. kelleysislandchamber.com 
July 14-16
Kelleys IslandFest | Kelleys Island, Ohio
The island's largest annual festival features craft vendors, food and drink, and a street dance party on Friday and Saturday nights. Check out the parade Saturday morning and hop around the island all day until fireworks after dusk. kelleysislandchamber.com 
July 15
Headlands BeachFest | Mentor, Ohio
The ultimate family-friendly beach party's lineup includes all-day entertainment, food trucks, crafts vendors and the Ohio Master Sand Sculpting Competition. Three world-champion sculptors build larger-than-life creations. (It takes them three days.) Families get their own sand lot to play, build and see who wins. cityofmentor.com
July 15
Middle Bass Music Festival | Middle Bass Island, Ohio
Middle Bass is an island escape without the loud and crowd, and you can take in a low-key daylong fest with food, drinks and live entertainment at its annual Music Festival. Word is, Benny on Bass will make an appearance as the event icon. Miller Boatline will run an extra ferry back to mainland, departing at 7 p.m. when the fest ends. lakeerieislandsconservancy.org/music-festival
July 16
Le Tour de Norfolk | Delhi, Ontario
Ride at your own pace — it's not a race. You'll want to take in the postcard-worthy backroads and villages of Norfolk County, along with rest stops that beg a repeat visit. One stop is Sand Hill Park by Port Burwell along the lakeshore. The last is Charlotteville Brewing Company. "The roads are all paved. It's quiet and scenic," says Yvette Mahieu, the ride's founder. "We just want people to enjoy riding and meet new people along the way." letourdenorfolk.com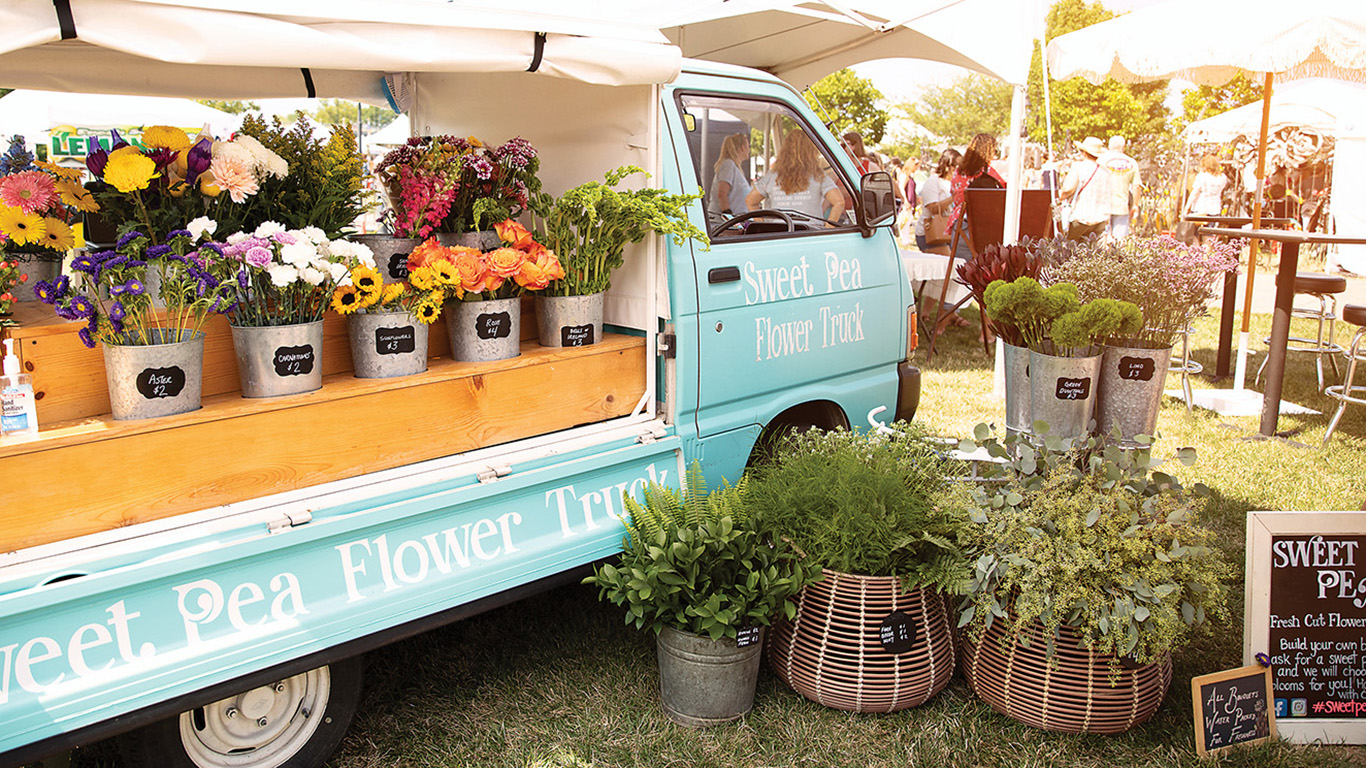 July 21-22
The Summer Market | Lorain, Ohio 
From vintage finds and coastal decor to art, jewelry and a robust farmers market, the annual Summer Market at Black River Landing is a maker's mecca with a family vibe. It all started in 2006 with 20 vendors and one restaurant. Today, it's a sought-after venue for more than 100 artists, shop owners, collectors, growers and chefs drawing more than 15,000 guests each year. Grab a bite from food trucks and featured restaurants, sip on a cocktail by the lake, take in live music — and shop. "I'm proud of the way Summer Market helps everyone," says Erin Stack, co-founder, who you can also find featured on page 12. Here, Stack shares some highlights and tips on how to make the most of your time there. 
Q: What can visitors expect this year? 
A: You will see every bay filled with vendors selling fresh produce, herbs, bouquets, jams, greens and more. Marshall's Antique Warehouse from Canton, Ohio, will join us with architectural salvage goods. Cleveland Field Kitchen is back in the restaurant lineup. Try the herb bean puree with heirloom tomatoes. The Docktail Bar will serve up canned cocktails, and our Girls Give Back booth will offer iced tea in Summer Market mason jars. 
Q: What makes Summer Market special?
A: Its foundation. It was founded on community, kindness, doing good and helping others. It is hosted by Girls Give Back and run by a team of volunteers as a fundraising event. It has also been a launch pad for hundreds of small businesses. All this together makes it a feel-good event that people like to be a part of. 
Q: Any tips for making the most of your experience at Summer Market?
A: It's a place to enjoy with others. We have parking on site, and if you park in our $20 Fundraising Lot, you get a spot close to the event. Friday Night is packed with shoppers, diners and sunset seekers. Saturday morning is the most chill. Bring a cart or wagon if you plan to load up. Check out the Porter Station for assistance with large purchases. thesummermarket.com
July 21-23
Wine & Walleye Festival | Ashtabula, Ohio
Got grapes? Ashtabula does. During this annual festival, the city encourages guests to eat, drink, shop and enjoy. That includes a fishing tournament, tastings, fireworks and entertainment like tours of Tall Ship the Lettie G. Howard, the only surviving example of a Fredonia-model fishing schooner. wineandwalleyefestival.com
July 24-30
Discover Presque Isle | Erie, Pa.
Celebrate all things Presque Isle — which means beachy activities like sandcastle competitions and volleyball, bonfires, music and the wildlife on this seven-mile stretch of sandy surf beaches. Check out self-guided and tour-led hikes, live music and lighthouse tours. "There is a variety of children's activities and workshops that teach visitors about the importance of conservation, protecting the inhabitants of the park — including plant life — and keeping the park and beach clean," says Christine Temple of VisitErie. 
Continue Discovering:
If you've got an appetite for creativity, check out the Beach 11 Handmade Marketplace & Food Truck Festival on July 28-30. discoverpi.com/events/dpi
July 31
Queen City Jazz Festival | Buffalo, N.Y.
Duke Ellington toured to Buffalo 19 times. Count Basie Orchestra played in town 23 times, and jazz greats like Ella Fitzgerald and Billie Holiday also took the stage at The Colored
Musicians Club, formed in 1917 during segregation. The club is the longest continuously operating African American musicians' organization, and it holds the annual Queen City Jazz Festival at Lafayette Square to recreate the experience. Foot tapping and food trucks for free. Can't go wrong there.  "It's a celebration of what the club represented to the city and the entire world," says event coordinator George Scott.
"We create that by bringing in major headliners along with featuring local talent."
Intermission:
While in town, stop in at The Colored Musicians Club & Jazz Museum to check out interactive exhibits with phenomenal jazz storytelling. thecoloredmusiciansclub.com
Aug. 2-6
Lucille Ball Comedy Festival | Jamestown, N.Y.
Comedy legend Lucille Ball's legacy lives on with the annual Lucille Ball Comedy Festival that showcases up-and-coming talent from around the country and comedy's biggest stars.  "This festival is not just for Lucy fans, but for anyone who loves live comedy," says Gary Hahn of the National Comedy Center, an interactive venue named Best New Museum in the Country by USA Today. What's on stage at this year's event? Check out headlining arena shows, and more than 50 live events in venues throughout Jamestown, including stand-up comedy showcases, late-night comedy, block parties, live music, kids comedy, movie nights and I Love Lucy legacy shows. comedycenter.org/festival
Aug. 17-19
D-Day Conneaut | Conneaut, Ohio
D-Day Ohio invades the Conneaut shores for the largest reenactment of its kind in the country. The living tribute to WWII veterans includes mock battles, living history displays and more than 1,500 reenactors in attendance. ddayohio.us
Aug. 18-20
CelebrateErie 2023 | Erie, Pa.
Centered in Perry Square is an everything-Erie festival that features local art, food, beer, wine, music and cool stuff for the kids. Check out the Family District with hands-on activities, the Business District with homegrown entrepreneurs and the Culture District with international food and artisans. Four stages showcase live entertainment. A major draw is the Chalkwalk, where local artists color the streets with vibrant murals. celebrateerie.com
Aug. 19-20
Port Dover Summer Fest | Port Dover, Ontario
Also called Art in the Park, this festival includes a fun component for bibliophiles — pre-loved books and magazines. Peruse antiques, crafts and arts by makers of all sorts. While you're there, check out the charming town's boutiques and steal away to the lakefront with a blanket to take in a sunset. portdoversummerfestival.com
Aug. 23-24
Bash on the Bay | Put-in-Bay, Ohio
Check out chart-topping country music acts at Bash on the Bay. This year's headliners include Pitbull featuring Elle King, and Luke Bryan. Book lodging in advance. bashonthebay.com
Sept. 7-10
Thunder on the Strip | Geneva-on-the-Lake, Ohio
The largest motorcycle rally in Northeast Ohio offers entertainment all day and night. Catch the daredevil Harley-Davidson Contraband Stunt Team. The Founder's Parade is Sept. 9, and work your way around the bars and dives to earn a Thunder Bar Hop T-shirt. thunderonthestrip.com