Meet Michelle Brunner — A Lake Erie Artist Inspired by Middle Bass Island
Middle Bass Island has proved a strong influence for painter Michelle Brunner — and soon she'll have a place of her own to fuel her passion and build new memories. 
Layers of watery blues, bubble gum pinks and serene greens cover the canvases of Michelle Brunner's creations, reflecting memories of summers spent on Middle Bass Island and life along Lake Erie.
"People ask me what inspires me to paint all of these coastal scenes, and they are surprised when they find out that I'm from Ohio and that's what I see from the island," she says. "They say it looks like New England."
Brunner, an art teacher at northwest Ohio's Perrysburg High School for almost 20 years, has always had a passion for painting. In 2017, she made a New Year's resolution to paint in her sketchbook every day for a year. To keep herself accountable, she posted the results on Instagram.
"I started painting for myself at first as a challenge. Then, it turned into a series, and I started getting commissions and working with other artists, galleries and people from throughout the U.S. — all through Instagram," she says. "My philosophy is, 'Just do it and see what happens and what kind of feedback you get.' That's how I approach my art."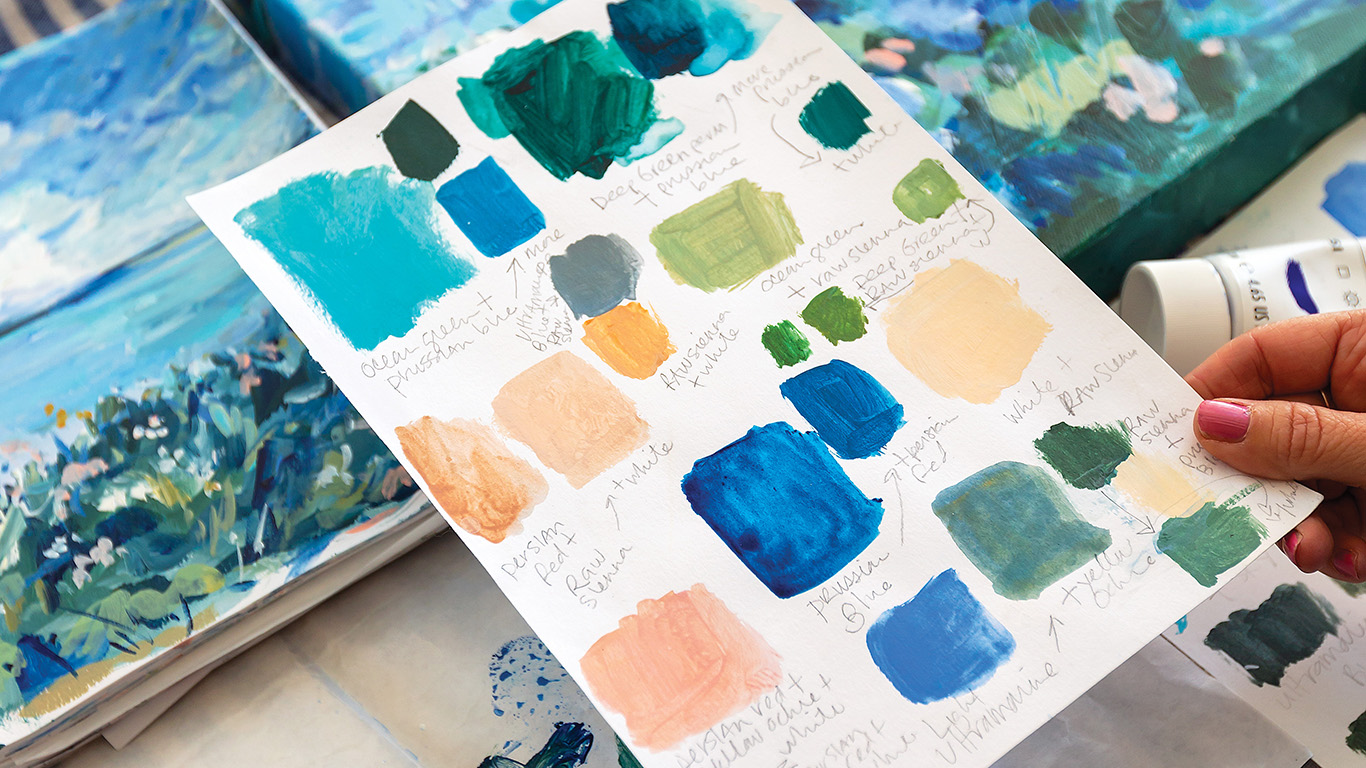 When Brunner first took on the challenge, her paintings didn't have a specific focus. Eventually, she found herself drawn to pictures she'd taken when she was at her parents' cottage on Middle Bass Island. It was the perfect inspiration for her impressionist painting style.
Using acrylic paint, which dries easily and is good for layering, every painting Brunner creates starts with an underpainting — usually a base color of light pink. For the most part, she doesn't draw out her work; she layers the paint and mixes colors directly on the canvas.
"A lot of what I do is intuitive painting," she says, adding that she does a lot of studies in her sketchbook while on the island and then goes back to her studio in Perrysburg to paint them. 
"I've found it very peaceful to paint from memories of spending summers on the island," she says.
Her family's love affair with the islands began with her grandparents, who owned a small, single-story cottage on South Bass Island. When Brunner's father, Bob St. John, got married he wanted the same kind of summer for his family.
Bob and his wife, Maureen, looked around South Bass Island, but couldn't find anything in their price range. The problem on Kelleys Island was that all of the properties they liked had a road separating them from the water. When the couple visited Middle Bass Island, they found a beautiful piece of lakefront property nestled on the north side of the island with a magnificent view of Sugar Island and water as far as the eye could see.
Bob and Maureen purchased the property in 1980, but, with another home they'd bought in Perrysburg, as well as a growing family, they didn't get the opportunity to start building their island abode until 2010. When the time came, they considered their options and decided that transporting a prebuilt home to the island would be the best approach.
"There's some good builders and craftsmen on the island, but it's hard to book them to do a large house," Bob says, adding that the biggest hurdle was figuring out how to get the house on the ferry, which can accommodate a width of only about 15 feet.
"That limited the size the house could be," Bob says, explaining that the house came over in six sections. Once the house made it to the island, contractors dug the foundation, joined the two first-floor pieces and used a crane to lift and bolt the second floor and roof together. 
"Watching them build the house was amazing," he says. "It was a neat way to build a house."
Bob and Maureen spend about 85% of spring, summer and fall on the island, enjoying time with family and friends and taking advantage of their slice of paradise.
"It's so quiet and serene and just a nice place to be. If you like nature and the outdoors, you'll love Middle Bass," Bob says, noting the variety of wildlife, including white pelicans, tundra swans, beavers and even deer that can be seen swimming between the islands. Among their favorite activities are fishing and paddleboarding around Sugar Island.
Everything, it turns out, is better when you're surrounded by water.
"The same kind of chores that seem like work at home — mowing the grass and trimming the bushes — they don't seem like work on the island," Bob says.
Brunner grew up visiting the Lake Erie Islands just as her father did. But once her dad built their own place, she started spending entire summers on the island.
"It's definitely a getaway," she says. "You look out on Lake Erie, and there's all of these different islands, and they each have their own story and history."
Brunner's two daughters (Isla, 12, and Immy, 8) love visiting Middle Bass, too. They've made friends with other children on the island and spend their days swimming, kayaking, searching for beach glass and taking a walk to the Middle Bass General Store to get candy.
"It such a great environment," Brunner says, noting that the new marina in the state park is one of the nicest on the lake.
One day, Brunner and her husband, Rob, were taking a walk on the island and found a waterfront lot, with a dock, for sale. In May 2021, they purchased the property and are now in the process of building their own summer escape — a 1,700-square-foot ranch next to historic houses in the Middle Bass Club. To give the cottage character and blend in with other homes in the area, the exterior will be light gray, with thick white trim around the windows and doors, and cedar shake accents. The interior will be light and airy with light wood floors. The primary bedroom will include a space facing the lake for Brunner to paint.
Brunner, who lives about an hour away in Perrysburg, says a lot of people don't truly understand the treasure we have.
 "The beauty of it and being on that ferry coming over is peaceful in itself. It's part of the journey," she says, adding that there's a special essence about Middle Bass Island that she hopes to capture at her cottage.
"We will decorate with neutrals, with pops of blues, whites and greens through art and accent pieces. I am hoping to create a couple of pieces specifically for the home," she says. "Once our house is built, we'll be able to share the island with our friends and have more people experience it."
Home on the Lake
Area experts offer tips for building new or renovating.
When it comes to trends in new homes, even people who don't live on the lake want to embrace parts of the lifestyle.
Lauren Glinn, sales manager for Wayne Homes, says the company has introduced a "Lake Collection" that's popular not just in builds along the Lake Erie shore, but also in inland markets. Exterior trim on Lake Collection homes includes arched gable brackets and shake siding — hallmarks of many waterfront homes. Together, she says, these touches offer a more weathered look to give it more dimension.
The Lake Collection features four different floor plans, each with a narrower house designed to fit on a lakefront lot — or a smaller lot within a city. Many of the floor plans include a great room with big windows and in, some instances, a balcony.
Bucky Kopf of Kopf Builders is offering new homes in his Harbor's Edge development at the Catawba Island Club, including homes with golf course views.
Many of the flourishes he is seeing are in the bath, including large showers with ornate fixtures, decorative tile work and heated floors.
Clare Opfer of S&H Blinds and Floors, meanwhile, notes that homeowners are paying more attention to backsplashes in both kitchens and bathrooms. And luxury vinyl flooring is always popular in homes that are subjected to sandy feet, large lakeside gatherings — or even just the reality of daily life with kids or dogs. 
Of course, the supply chain issues that have been an issue over the past three years haven't entirely gone away, and Kopf, who also offers high-end developments in his hometown of Avon Lake, Ohio, says there's still a worker shortage.
That's why it's important to start planning as soon as possible, Opfer says.
"It's never too early to get going," she says. "I'd rather wait for you than have you waiting for us."