Scene from the Shores of Southern Ontario
Spend a gorgeous summer day, weekend or longer exploring the great outdoors along Ontario's EPIC Lake Erie coast.
Looking for a Lake Erie getaway that keeps your sights on the shoreline? The Essex Pelee Island Coast (EPIC) region has it all, from fishing, hiking, biking and bird watching to swimming, kayaking, camping and more.
"You can visit a whole other country, so close to home," says Holly Ing, manager of content marketing for Tourism Windsor Essex. "Our unique geographical position creates the perfect grape-growing conditions, premier bird-watching locations, peninsula with fishing hot spots for avid anglers and relatively flat terrain for cyclists."
Here, we offer six ways to experience the excitement, adventure and ambiance of Ontario's great outdoors.
Cast a Line
Ontario's southern coast offers exciting challenges for anglers of all ages and abilities. Climb aboard one of the region's spectacular fishing charters, where captains reveal their love for Lake Erie and lead you on half- or full-day adventures to an abundance of walleye, perch, bass, pike, trout and steelhead. For those looking to troll the shores, head to Rondeau Park, Colchester Harbour/Beach, White Sands Conservation Area or Long Point Provincial Park, farther down the coast.
Bring Your Binoculars
"The unique geography of the region attracts hundreds of thousands of migratory birds each spring and fall," says Ing, giving a nod to Holiday Beach Conservation Area, which is renowned for its birding and has been named an Important Birding Area. This destination also offers large shady picnic areas, a playground, nature trails, a sandy beach for swimming, observation tower and camping options. During fall, don't miss the Festival of Hawks, a September spectacle where you can see hawks and owls up close as they prepare to seek warmer weather for the winter. Also keep your eyes peeled during a stroll down a wooded boardwalk at Kopegaron Woods Conservation Area or nearby Hillman Marsh Conservation area, where visitors will find a birding trail that borders 87 acres of shorebird habitat. Next, stop for a picnic and feed the birds at the historic 400-acre Jack Miner Migratory Bird Sanctuary.
Get on the Water
Pelee Wings Nature Store offers everything adventurers need to enjoy the great outdoors, from kayaks and paddleboards (for rent and purchase) to astronomy scopes, binoculars and more. Join the staff at Pelee Wings Beach for Friday night kayaking or Saturday night paddleboarding. To discover some of the region's natural beauty, drop your vessel in the water at Seacliff Beach or Cedar Creek Conservation Area. Or, discover an aquatic wonderland in Point Pelee, where you can meander through channels to explore smaller, lesser known areas of the Marsh Boardwalk.
Take to the Trails
"Follow the lake, by bike! Windsor Essex has miles of lakeside trails to explore and enjoy," Ing offers. Cruise the Lake Erie coastline with Wine Trail Ride, which offers cyclists stops at four hot spots along the EPIC Wine Country region, as well as a progressive meal along the way. Or, rent an e-bike or vintage-style cruiser bike from the Grove Bike Co. and head to Boblo Trail, which takes riders on a trek through historic architecture, natural wildlife and magnificent views of the shoreline. For those looking for a leisurely walk with a wonderous backdrop, visit Turkey Point Provincial Park, which offers three hiking trails, along with opportunities for biking, birding, fishing, camping and swimming.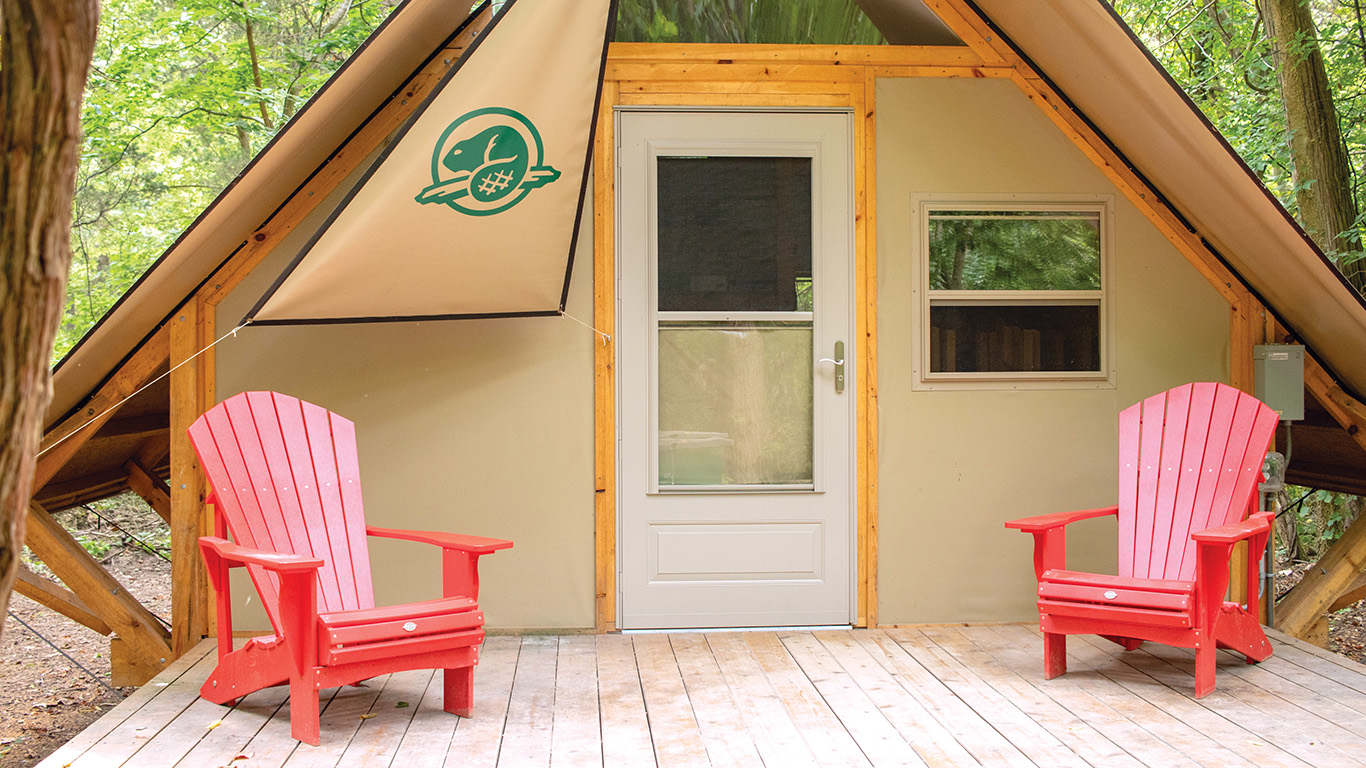 Pitch a Tent
Spend a night among the stars at Point Pelee National Park thanks to oTENTik, which offers a tent/A-frame cabin combo that gives campers a little extra comfort in the wild, including raised floors, a cozy bed and furniture. "Situated on the southern extreme of mainland Canada, Point Pelee National Park is a tiny sanctuary supporting a mosaic of habitats, from jungle-like forest to lush wetlands to open savannah," Ing says. Bike the 4.5-km trail, taking you deep into the forest, or walk the boardwalk out onto one of the largest freshwater marshes left on the Great Lakes.
Play on Pelee Island
Canada's southernmost destination boasts pristine beaches, nature trails and panoramic views of Lake Erie. Here, step back in time with a tour of Vin Villa, the ruins of Canada's first commercial estate winery. Next, hike with the lighthouse in sight at Lighthouse Point Provincial Nature Reserve. Then, make your way to the southernmost part of the country at Fish Point Nature Reserve before settling down for a glass of grapes and amazing ambiance at Pelee Island Winery Pavilion. Book a ride from the mainland with Pelee Island Ferries, which during summer months also offers rides to and from Sandusky, Ohio.