Meet the Newest Lightkeeper for the Detroit River Lighthouse
As lighthouses are auctioned off by the U.S. government, private citizens and nonprofit organizations are finding out just what it takes to restore these shining reminders of the Great Lakes' maritime history. Daryl Jamieson shares his hopes for this iconic Michigan beacon.
As loved as lighthouses are, they're not all that useful anymore.
Take, for example, the Detroit River Lighthouse, which has guided ships in and out of the Detroit River since 1885. After it was automated in 1979, the structure fell into disrepair and was eventually declared excess property by the U.S. government in 2015.
Daryl Jamieson first caught wind of a plan to auction off the Detroit River Lighthouse (among others) in the summer of 2017, while boating around the lighthouse's crib, or platform, about 2 nautical miles from his lakefront home in Gibraltar, Michigan.
"Boaters are always looking for places to go," Jamieson says. "We always end up hanging out there all day and staying to watch the gorgeous sunsets."
On that particular evening, he struck up a conversation with another group of boaters, who told him the black-and-white sparkplug-style lighthouse would be sold at auction. His ears perked up when he was told they sell cheap.
"How cheap?" he asked.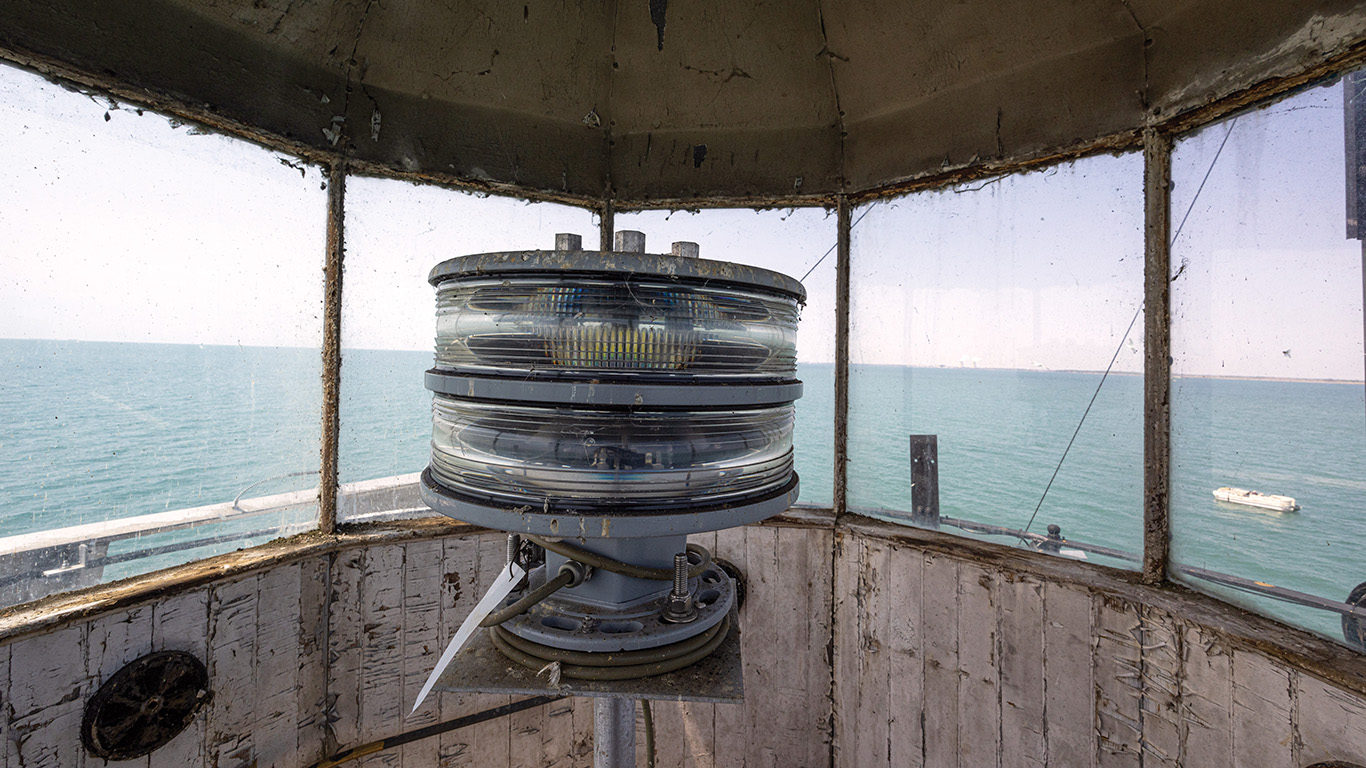 As part of the National Historic Lighthouse Preservation Act of 2000, excess government properties are first offered at no cost to eligible government agencies or nonprofit groups. If there are no takers, the real estate is sold at auction by the U.S. General Services Administration to the highest bidder.
Among the Lake Erie lights that have been auctioned, Ohio's Fairport Harbor West Breakwater Light went for $71,010 in 2011 and the Conneaut West Breakwater Lighthouse sold for $46,000 the same year.
The notion of buying the Detroit River Lighthouse nagged at Jamieson. He envisioned restoring it to its former glory with each floor of the keeper's house decorated in a style from different eras. He also felt it was important that it generate its own income, so the idea of turning it into a bed-and-breakfast or an Airbnb started gaining momentum.
When the bidding opened on July 25, 2017, he wasn't the only interested party. Six bidders battled nearly three months for the beacon. Just when Jamieson thought it would be his, a rival's bid would come in at the 11th hour. 
"I became very passionate through the bidding process," he says. "Every time I thought I had won the auction, the other potential buyer pressed the button at the last minute."
By the time the dust had settled on the contentious bidding war, the selling price was $188,000 — way over the $50,000 he had budgeted at the outset. "It pissed me off," Jamieson says, "but I'd like to thank that person for solidifying my commitment to saving the lighthouse."
Buying and preserving the historic structure came with a laundry list of requirements that must be followed to protect and safely preserve the building from further decay. What's more, the Coast Guard retains the right to access the still-active light and foghorn for maintenance purposes. Before sinking any more money into the lighthouse, Jamieson formed a nonprofit organization called the Detroit Lighthouse Society to start raising funds to defray the cost of restoration, which he estimates anywhere from $500,000 to a million dollars. He says the reason for the vast difference in the dollar figure is because it depends on how much he can do on his own and how much he needs to farm out. He hopes to secure some "passionate lighthouse lovers" who want to work on this project.  He then enlisted the help of the Buffalo-based historic preservation department of ICC Commonwealth, a construction firm with experience working on tall historic structures, including lighthouses.
"For someone who hasn't done their research, lighthouse preservation can be costly," says Tyler Finkle, the division manager of ICC Commonwealth's historic preservation arm. "Jamieson is meeting with the right people. He has some big obstacles in the way, but he's doing the right things and talking to the right people."
Finkle, who conducted an inspection of the property, says the priorities should be cleaning out the lighthouse, abating any hazards, such as lead paint, and making it watertight from the top down to prevent further deterioration. But before that gets done, Jamieson needs to address the challenge of getting people and materials to the lighthouse. In periods of rough weather, it's nearly impossible to get on the crib. He's looking into installing a V-shaped docking system for safe offloading. 
After a long delay caused by the pandemic, Jamieson hopes to start clean-up this summer. It will involve removing trash, mold, flaking paint chips, plus layer after layer of bird excrement. It could take up to five years before the lighthouse is habitable. Once it is, the bed-and-breakfast will be able to accommodate six to 12 guests who, for a night or two, can live out their fantasies of becoming lightkeepers.
"Progress has been frustratingly slow," he says. "But the federal government didn't do anything for 30 years. I'm taking my time because I'm in it to win it."
As if it isn't enough work to renovate a neglected lighthouse while simultaneously running a towing business and managing a handful of commercial properties, Daryl Jamieson recently added Turtle Island to his real-estate portfolio. The 1.5-acre island in Lake Erie's western basin at the entrance of Maumee Bay is infamous for being oddly split by the Michigan/Ohio border running through its middle.
Former owner Jim Neumann, featured in Lake Erie Living's July/August 2019 story "His Own Private Island," decided it was time to give someone else the opportunity to make something of the island. In 2022, he approached Jamieson, who agreed to purchase it for an undisclosed price.
For now, plans for the island are on the back burner while Jamieson focuses on renovating the Detroit River Lighthouse. He is planning, however, a well-deserved cleanup on the island this summer, and he hopes to add container homes there in the next couple of years, depending on governing agencies. 
Only one thing is certain, thanks to an agreement the two men made when closing the deal. "When I die, my ashes will get spread on the island," says Neumann. "Until then, I have visitation rights."
Want more Lake Erie in your life? Subscribe to our free The Splash newsletter. It's your guide to the best food, drinks, parks, beaches, shopping, festivals, music and more. Click here to subscribe.