Creating a Kitchen Fit for a Culinary Queen
Dena Fisher, the mastermind behind Dena's Table, reveals how Lake House Design helped her transformed the heart of the home into a beautiful and efficient canvas to create crowd-pleasing culinary creations.
Dena Fisher was an excellent cook — and everyone knew it.
The suburban-Cleveland resident had made a habit of dropping off delicious meals to friends and neighbors coping with an illness in the family or some other life challenge. In 2017, shortly after Fisher left her job as a family-medicine research project manager at Case Western Reserve University to become a stay-at-home mother, a recipient of that generosity decided to take permanent advantage of those culinary talents.
"My good friend and neighbor across the street said, 'Hey, why don't you tell me what you're making for dinner this week, and I'll just buy dinner from you? You can make extra for me,'" Fisher recalls. "I thought, well, that's hilarious." But when she told her sisters-in-law about the idea, they didn't laugh. "They were both like, 'Oh, my gosh! I would pay you to make me dinner every day of the week!' "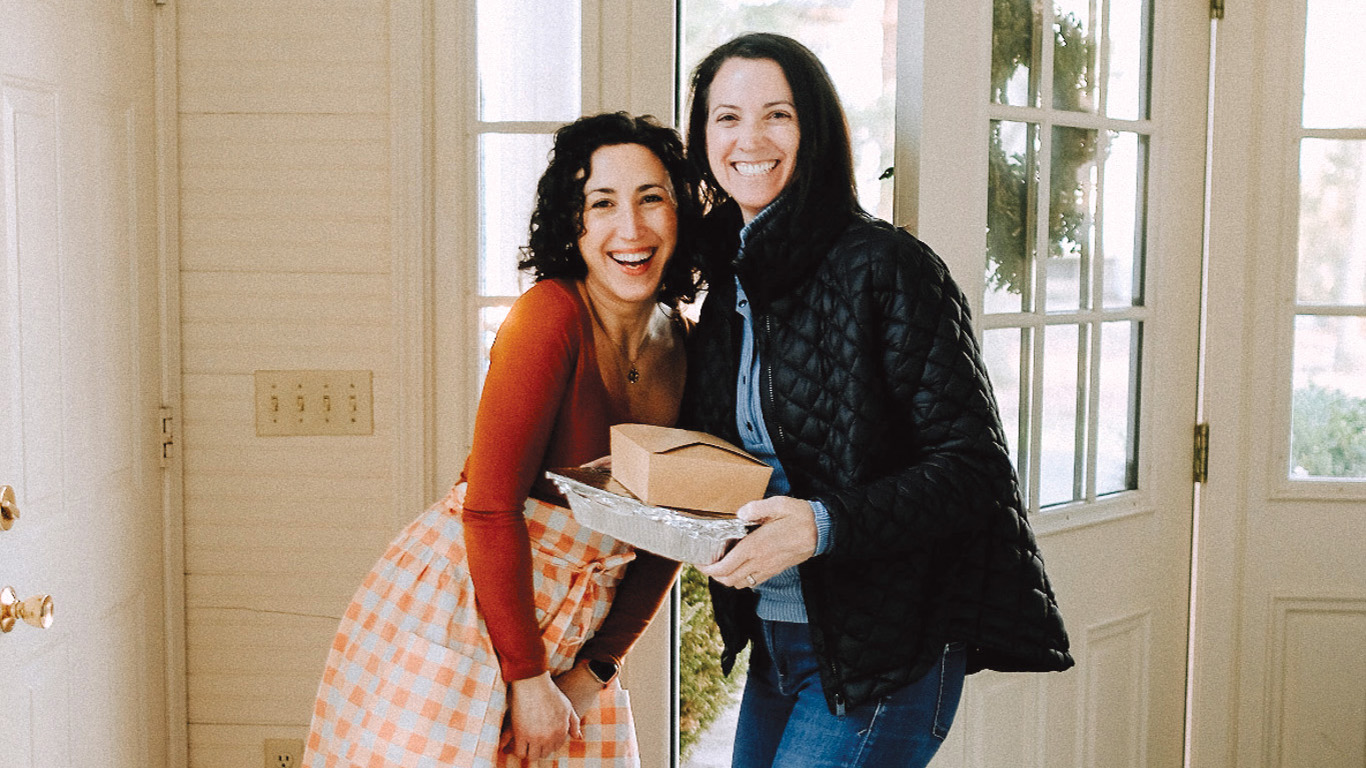 So Fisher began posting a weekly menu every Thursday for a Facebook group she called Dinner In and invited six busy friends to place orders for pick-up dinners Monday through Thursday.
Six years later, that group has grown to 300 members who regularly order her hot meals, all prepared with locally sourced organic produce and pasture-raised meats. The menu offers everything from pork carnitas with corn salsa to lasagna layered with her own pasta to pan-seared salmon with roasted red potatoes and Brussels sprouts.
The success of the resulting business, Dena's Table, was one of the reasons Fisher and her physician husband, Dr. Cory Fisher, moved to a farm near Vermilion, Ohio, in June 2021. The 7-acre property, which they named North Ridge Farm, provided the land necessary to grow produce and raise chickens for eggs, a three-stall horse barn perfect for hosting four-course pop-up dinners in the summer, and a pool for their three children.
The only problem? The kitchen in the 1948 farmhouse, although remodeled a decade ago in white cabinetry and gray laminate countertops, simply didn't function for her.
"I didn't have enough counter space," she recalls. "And it was closed off from the rest of the house. Our kids are teenagers. When I was in the kitchen cooking, they could just disappear almost anywhere in the house."
The view of the backyard from the window over the sink was obstructed by the mud room, part of an addition built by a previous owner. And the stainless-steel refrigerator at one end of the U-shaped workspace "stuck out like a sore thumb."
The couple hired Jeremy Lake of Lake House Design to transform the 220-square-foot kitchen into a place where Fisher could prepare up to 40 meals a day while supervising the kids. The window over the sink was walled up, and a new stainless-steel Kohler Stages sink — "It has a stainless-steel ledge where I can prep meats or fish or vegetables and then just rinse directly into the sink" — was installed beneath an existing east-facing window with a better view. A walk-in pantry with a large second sink and icemaker was created in the space once occupied by a table. And the wall between the kitchen and dining room was eliminated, a move that flooded the former with light from a bay window in the latter and precipitated rebuilding one side of the U-shaped workspace as a long peninsula where the kids could eat breakfast and do homework.
"We knew, based on the size of the kitchen and the layout, that we probably weren't going to be able to have a large kitchen island," Fisher says.
The couple opted to replace the wood-laminate flooring with white-oak engineered hardwood stained to match the open kitchen and pantry shelves, a durable and affordable alternative to solid hardwood that workers laid throughout the first floor.
The appliances were equally impressive. A Bluestar Platinum range was installed in the area once occupied by the sink, and a Thermidor Column refrigerator was hidden behind cabinetry panels on the newly built pantry wall opposite the remaining window.
Fisher chose to paint the custom cabinets Sherwin-Williams Pewter Green, outfit them with brass hardware, and top them with a honed Carrera marble that approximated the worn stone she might find in a French bistro or patisserie.
"I just wanted a really bright, clean finish," she says. "And I just wasn't finding that in engineered hard surfaces." She admits that the material, although sealed, is vulnerable to etching and staining.
"But the difference between my marble countertops and, say, quartz that's made to look like marble is that my countertops can be sanded, buffed and refinished," she says. "Quartz cannot."
The countertops flow into a backsplash of Daltile's Arctic White matte porcelain tile grouted in pale gray. "A farmhouse kitchen wouldn't have a glossy, high-fashion tile. It would be very simple and mostly functional," she explains. 
Outside, the family's projects continue to supply Fisher and her kitchen with the freshest possible ingredients.
"Soon, we'll have honeybees," she says. "And actually, this past winter we tapped about 30 maple trees — we have maple syrup." The fruit trees are still too young to produce apples, pears, plums and cherries. But any peaches from the lone peach tree will end up in a client-favorite entrée, the recipe for which you'll find on the next page.
"It's the perfect summer al fresco dinner," Fisher declares.
Creating a Kitchen
"The day of the dining room is gone," says Bucky Kopf.
Kopf, the owner of Kopf Builders in Avon Lake, Ohio, says open floor plans remain in demand for the homes he builds — including the Harbor's Edge development on Catawba Island in northwest Ohio — and they usually feature a big, airy kitchen, with lots of windows to bring the outside in.
Lauren Glinn is sales manager for Wayne Homes, which works throughout the region and is celebrating its 50th anniversary this year. She says most of their floor plans are built with the idea of a large island that offers seating and dining space for residents and guests.
The standard microwave above the stove arrangement is being replaced. As kitchens become a showpiece, many stoves have hoods above them instead. "It gives it a more ornate look," Glinn says.
Microwaves might now be found in a cabinet on the island — "You're reaching down now instead of reaching up," Kopf says — or the microwave and stove might be together in a self-contained cabinet, Glinn says.
The most popular choice for kitchen floors remains luxury vinyl flooring, though it's also popular for bathrooms, and even in some living rooms and bedrooms. Clare Opfer of S&H Blinds and Floors in Sandusky, Ohio, says that laminate floors remain durable and low-maintenance, but printing technology has advanced to the point where they can look like wood planking or even marble. 
"There are so many lines that give you a realistic feel," she says. "The options are really endless."
A lot of kitchens are still done in white, but cabinets are now trending toward wood grain, mostly light, Glinn says, but not entirely. And granite countertops are still the most common choice, Kopf says, but not the only choice, noting that some clients prefer quartz or marble.
Want more Lake Erie in your life? Subscribe to our free The Splash newsletter. It's your guide to the best food, drinks, parks, beaches, shopping, festivals, music and more. Click here to subscribe.